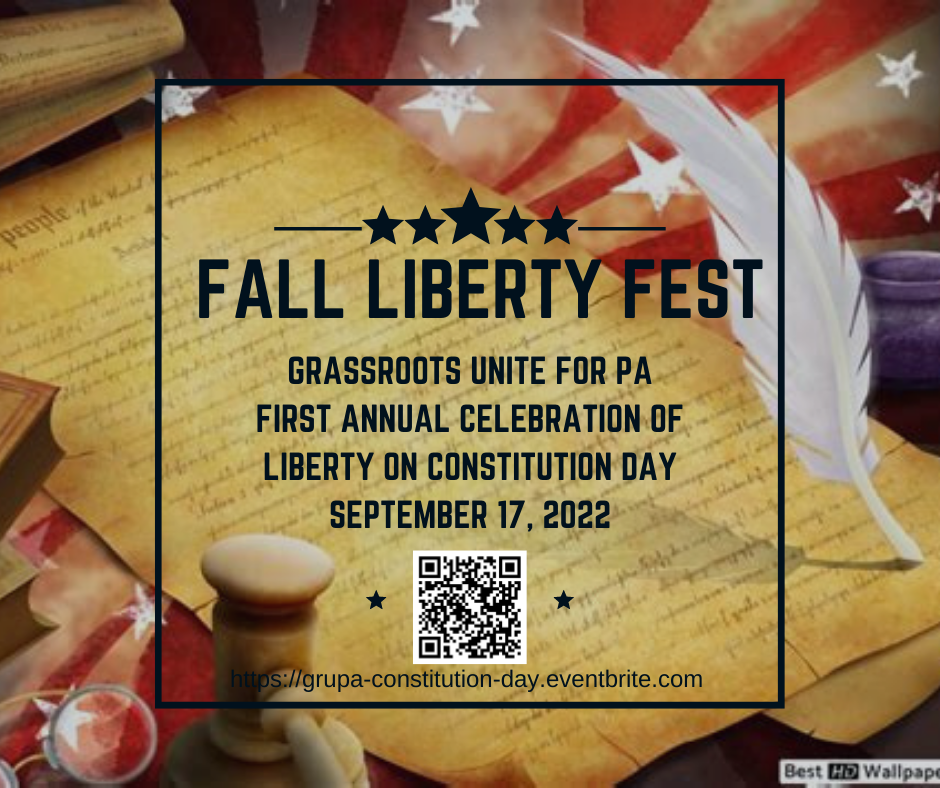 Fall Liberty Fest
September 17 is Constitution Day! Don't miss this all-day FREEDOM event for the whole family!!
This will be the Woodstock of good ideas for the future. Bring family & friends to celebrate liberty & our Constitution!
Description Of PA Fall Liberty Fest
The uni-party establishment in Pennsylvania does not think that the grassroots can ever get together and speak with one voice. In fact, they seem to be counting on it.
This is a We the People event. No elected leaders will be speaking, though they are encouraged to listen. Instead, hear from the leaders of grassroots groups across the commonwealth who are working to hold our elected officials accountable. There may be a few areas where we have differences, but there are several BIG reasons why we unite.
Billboard Chris – "Empowerment and not Confusion"

Tabitha Valleau, Connecting & Community

Fenicia Redman,  

Parent Suing Governor Wolf – "Grooming Agenda: Obscenity in School Curriculum"
Dr. Chaminie Wheeler – Medical Transparency and Uncoupling the Goliath
Dr. Tracey Stroup – Naturopathic doctor, Wellness and Medical Freedom
Lois Kaneshiki – Moms for Liberty – "We do NOT co-parent with the government"
Toni Shuppe – Audit the Vote "Restoring Secure Elections"

Kurt Weaver, PA Family Institute – "Life after Roe, Cultivating a Culture of Life"

Charlie Gerow – CEO, Quantum Communications, "State Sovereignty and Federal Overreach"

Amos Miller, Farmer, Over-regulation, intrusion into the Private Domain
Connor Boyack, Author of Tuttle Twins – Libertas Institute – "How Free Markets Led to America's Founding"
Article V Convention Panel Discussion and Presentation – Kenn Quinn and Joanna Martin

Matt Krause, WallBuilders – "America's Founding Fathers and The Constitution"

Ken Layng, Emcee
Music (Live or DJ, TBA)
Games for kids (bounce house, temporary kids tattoos)
Free games: Cornhole, Kanjam, Giant Jenga, Trash Pong, Ladder Golf
Additional recreation at an optional cost: Massive rock climbing wall; Arcade
On site Food Court (we may not bring our own food on premises)
On site hotel for those who are traveling a distance
Help us spread the word, and join liberty-loving Pennsylvanians from across the commonwealth for this all-day liberty festival!
The following businesses have helped to make this event possible:
American Association for Physicians and Surgeons (AAPS)
Spooky Nook
Lancaster Bounce House
PA Liberty Alliance
St. Boniface Brewing
Lancaster Patriot
We are still collecting corporate sponsors…
The following grassroots groups have collaborated to make this event possible:
FreePA
Health Freedom Pennsylvania
PA Economic Growth PAC
Pennsylvania Coalition for Informed Consent (PCIC)
Lions for Liberty
Honorare Vita
Moms for Liberty
ReOpen York
White Rose Freedom Warriors
PA Informed Consent Advocates
Informed Consent PA
More…